Vilamoura Boat Marriage Proposal
October 2023
Join us on a romantic journey in Vilamoura through the stunning Algarve coast by boat and propose to your loved one!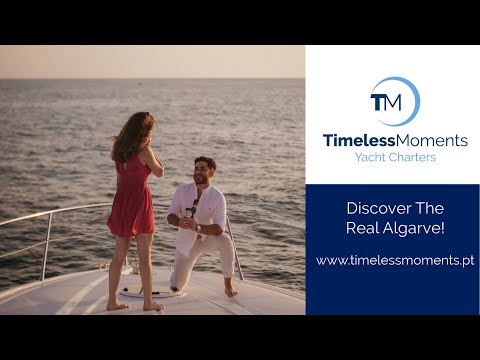 Join us on a romantic journey through the stunning Algarve coast as we set sail for a life-changing moment.
Experience the magic of the Algarve like never before as we embark on a breathtaking boat adventure that will leave you inspired and touched by the power of love. In this enchanting video, witness the anticipation, the excitement, and the sheer beauty of the moment as we sail along the sun-kissed cliffs, surrounded by the waters of the Atlantic Ocean.

This love story finds its perfect setting amidst the stunning landscapes of the Algarve, where cliffs rise majestically from the sea, and golden beaches beckon. As the sun begins its descent, painting the sky with hues of orange and pink, the stage is set for a heartfelt proposal that will warm your heart.
Join us on this intimate voyage as we celebrate love, commitment, and the natural beauty of the Algarve. Whether you're a romantic at heart or simply seeking inspiration, this video is a testament to the timeless allure of love and the breathtaking backdrop of the Algarve coast.

Get ready to embark on a journey of love and adventure as we ask the most important question!